When I first moved to Toronto years ago, I used to work as a security guard at different downtown venues.
This is BMO field, where the TFC soccer team plays. Season's ticket holders enter the stadium at the green *
If you were a 2009 season's ticket holder,
I probably checked your bag.
And probably commented on its contents.
To the mothers, sorry I had to take away your kid's food, they made me. Not sorry for all the water bottle caps I unscrewed, that's a no every time.
One night, across the way at the Ricoh Coliseum, I was on search at the door, for a Slipknot concert, and I'd forgotten my gloves :S
Gwen Stefani smiled at me once, and it's amazing how pumped people get for Nickelback. Saw Adele before she was Adele, the former head coach of the Raptors gave me a locker room coke, and I once escorted ACDC to their van without realizing it.
When Elton John was here, that was me, in the centre of the arena, sitting on a speaker guarding the sound mixer. David Furnish sat beside me for a bit, he has a nice air about him.  Britney Spears was the only shift I ever requested.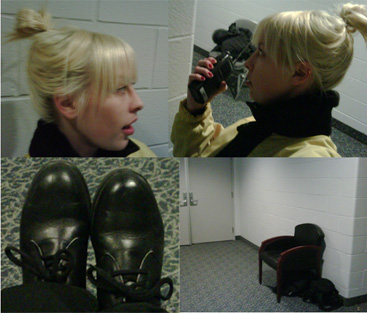 Three days at the Royal Agricultural Fair feels like forever, this job really slowed down time.
And no, I don't want your guitar pick.
The perks of this job were lost on me, since I rarely listen to music.  Mostly I'd ask to be assigned to the quietest, remote corner, and read.
About my over-the-top 5.11 pants I got for my uniform.
(top photo – taken during a backstage tour of the Honda Indy)
Comment with Facebook
comments